PUFFNAKE 2.2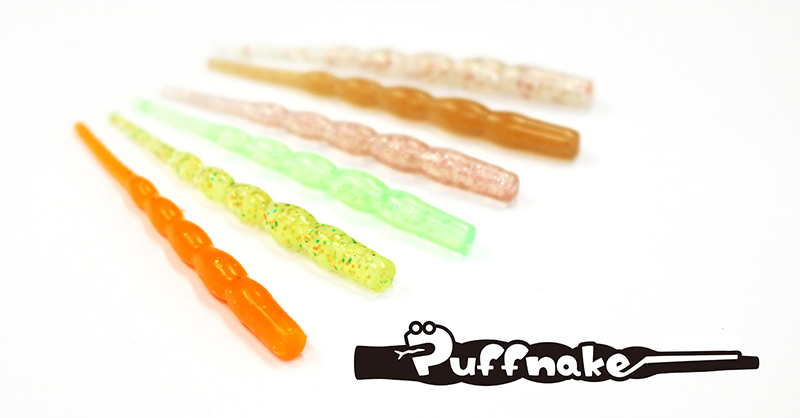 "It moves and visually appeals even in stay mode".
Originally, the inspiration idea is a jointed bamboo material sake toy that wriggle wide smooth motion. I created the PUFFNAKE in this image.
It's not about waves motion but it' s about the visual effects. It was intended that the nodes would move well in the part like a joint. In fact, if you view underwater, the worm stopped, but it got caught up in the stream and moved slightly. The horse mackerels are big-eyed fish, so the idea is that you will find them if you have PUFFNAKE in the plankton clumps.
The goal is not to move away," but "moving as in stay position." This movement will pop out in the plankton mass. I came up with the idea that existence would be visually clear if the worm moves naturally by the current flow. I happened to be developing PUFFNAKE around the same time as the GLITTER HEAD. It may seem like a GLITTER HEAD only worm, but I've adjusted the head shape to fit all jigheads.
PUFFNAKE comes in 2.2 inches in size, and large worm stands out, so if the horse mackerel highly active, it's eaten right away. When activity is low, there are parts that are difficulty to eat. Therefore, under such situation, you cut at the node joints, making it shorter and shorter. If you cut it smallest to 1 inch, it will be effective to catch mame aji (juvenile horse mackerels). It is one worm with many advantages. If you stab a hook and catch a number of horse mackerels, the worm's head will become sluggish, but tearing it off will restore the ease of setting, which economically save you some money.
PUFFNAKE is a worm that can be handled by changing the size of the worm depending on the activity and situation of the horse mackerel, so please try using it.
Products_Inner
6 colors
Ameiro… Glow + red lame.
Tomoshibi… Glow + Kim Gyun Red Lame
Kohaku… Silver lame + red lame.
Himawari… Glow + Kim Green Rame.
Kaiunorenji… Glow + golden lame.A.
Aoringo… Point-emitting green + tinssel lame
Full length
2.2 in
Per pack
8nos
Price
495 yen (tax included)
JAN code
Ameiro:4589579020535
Tomoshibi:4589579020511
Kohaku:4589579020528
Himawari:4589579020542
Kaiunorenji:4589579020559
Aoringo:4589579020566